Market capitalization, often referred to as market cap, serves as an indicator of a company's value established through stock market evaluations. It is a straightforward calculation involving the multiplication of the company's current share price by its outstanding shares.
In this visual representation, we provide a treemap chart depicting the leading 50 publicly-traded companies globally based on their market capitalization. The data utilized for this visualization is current as of August 16, 2023.
Data and Highlights
All of the data we used to create this graphic is included in the table below.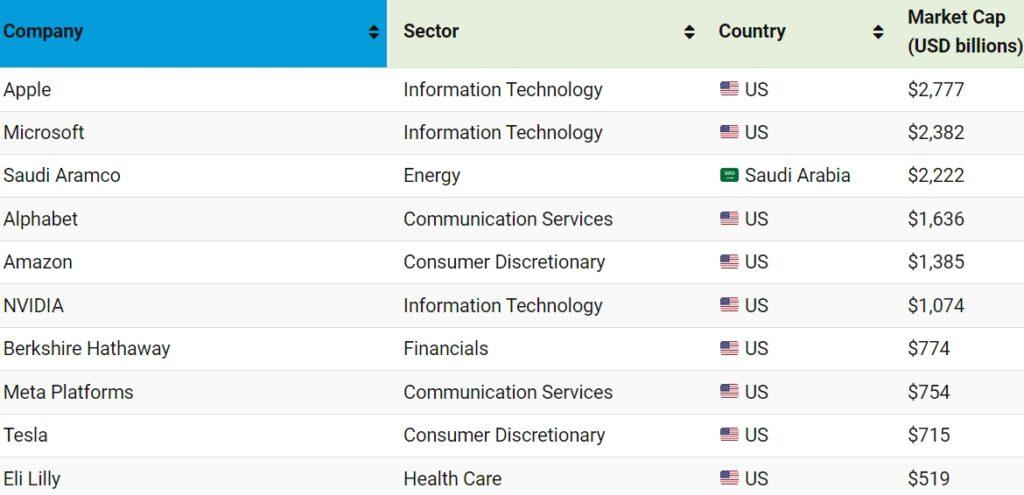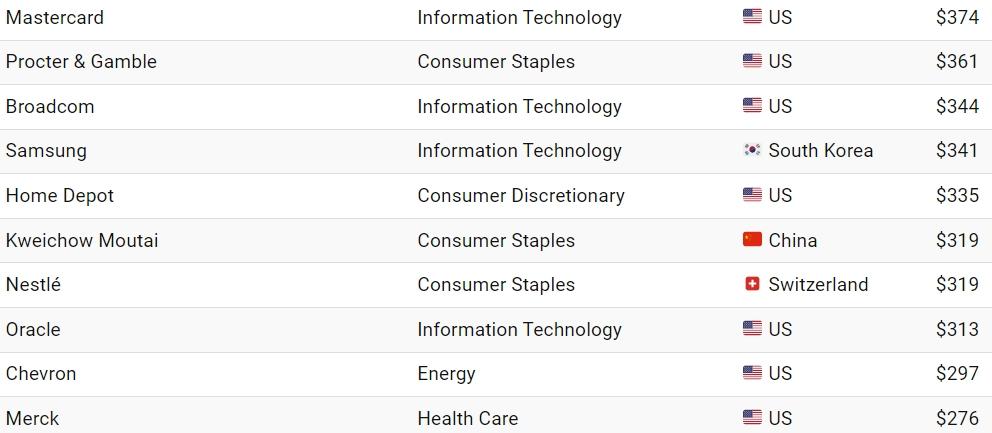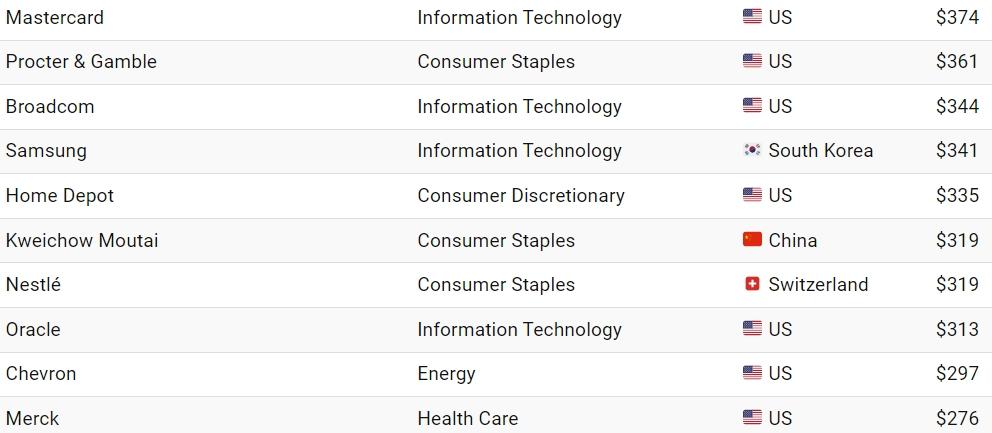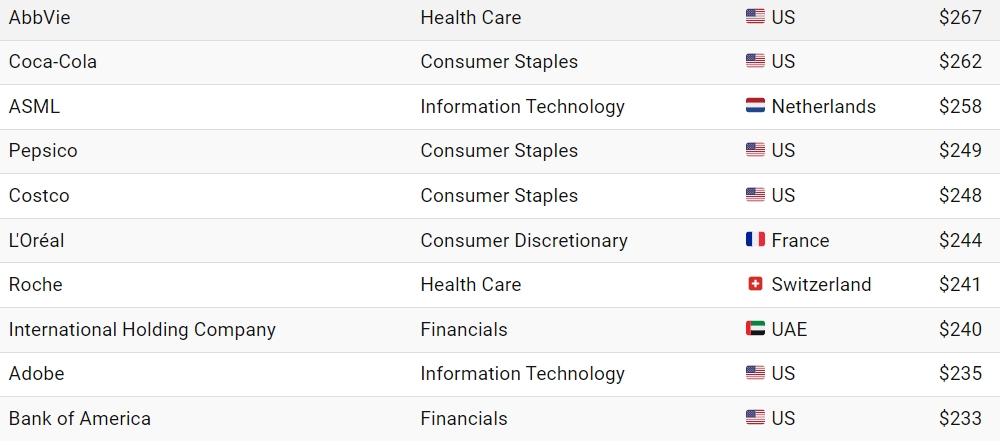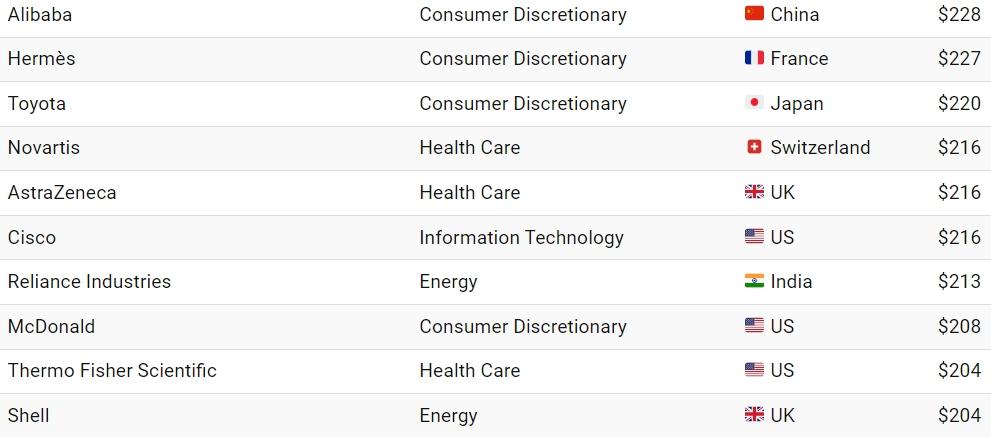 Based on this information, it's evident that there are only a few companies in the world that have reached a market capitalization of one trillion dollars or more. These companies include Apple, Microsoft, Saudi Aramco, Amazon, Alphabet, and Nvidia.
Formerly part of the trillion-dollar club, both Meta and Tesla are now situated around the $700 billion mark in terms of market capitalization. In 2022, Meta experienced a considerable drop in value due to declining earnings, whereas Tesla encountered challenges related to demand concerns.
Collectively, the top 50 most valuable companies account for a staggering $26.5 trillion in shareholder value. Looking at sectors, Information Technology dominates the list, contributing a combined market cap of $9.3 trillion. Following closely are Consumer Discretionary with $4.0 trillion and Health Care with $3.3 trillion in market capitalization.
Geographical Breakdown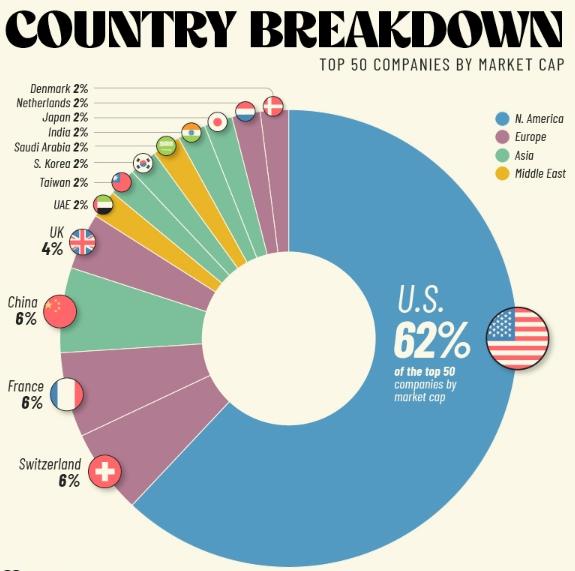 In terms of geography, the majority of the top 50 most valuable companies hail from the United States. The chart below illustrates the distribution by country. Following the U.S., Switzerland, France, and China are the next most prominent countries, each contributing three companies to the list.
Switzerland is represented by companies like Nestlé, Roche, and Novartis, with the latter two being significant players in the healthcare sector.
Among the companies from France in the top 50 list, all fall under the Consumer Discretionary sector, featuring fashion giants like LVMH and Hermès, along with L'Oréal, a prominent cosmetics leader. Earlier this year, LVMH CEO Bernard Arnault held the title of the world's richest individual with a wealth of $215 billion. Lastly, China contributes two widely recognized entities, Tencent and Alibaba. Joining them is Kweichow Moutai, a partially state-owned producer of alcoholic beverages, as China's third representative on the list.